CAMACOL JABAS HOLIDAY GIFT BASKET TRADITION CONTINUES.
The When, Where, How, and Why… of Our Christmas Holiday Tradition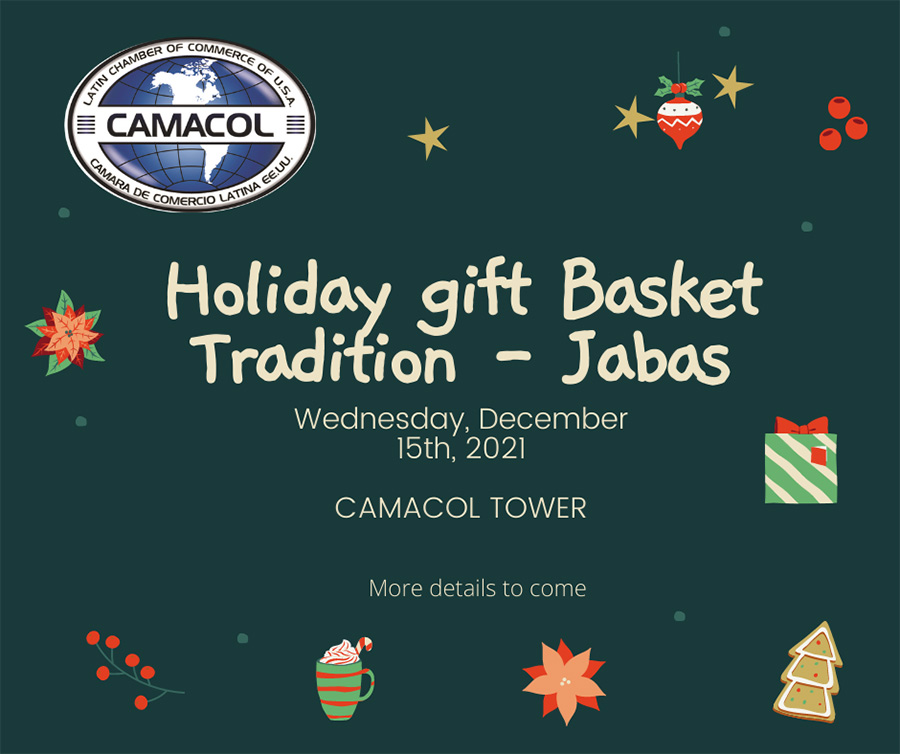 WHEN
The event will take place on Wednesday December 15th, 2021 as a "Drive-Thru" only event. Details to be forthcoming.

WHERE
CAMACOL Building, 14th and Flagler.

HOW
We will distribute Holiday gift baskets to needy families on a first-come first served-basis. Cars can begin lining up at a designated time and the event is scheduled to last until all Jabas gift baskets have been distributed. There will be no tickets required. It will be one "drive-thru" only vehicle line on Dec 15th. Vehicle line-up time and logistics to be announced at a later date.
Families without vehicles are encouraged to car-pool this year if they wish to participate; if different families are in one car, we ask for proof of address and limit to two family representatives per car.

WHY
"We are humbled to be part of this amazing community, and are grateful to be able to provide support when it is most needed," Pedro Mesa, Chair CAMACOL Jabas Committee.

"Grateful, to be able to continue with this important community event which is part of CAMACOL's commitment to Corporate Social Responsibility." Joe Chi, President CAMACOL

In addition, CAMACOL is asking local media, sponsors and community partners to help spread the word on the new format and venue for its Jabas 2021 event.
For any additional questions, concerns, or media requests, please do feel free to contact us directly via our office phone: (786) 281-0295. Or contact Rosalba Zepeda, the event director, at communications@camacol.org